11 Best Soundbars in India (2023 Edition)
Because most modern TV audio output is of inferior quality, a soundbar may be useful when you want to improve your listening experience.
Soundbars provide a better audio experience without requiring many connections or a more complicated setup.
A soundbar is a collection of speakers that deliver sound into the room from the exact location of the television. As TVs become smaller and narrower, the bezels have less space to accommodate large speakers.
Even though the focus of this article is to help our readers choose the best soundbar in India, let us first understand what we can expect from a good soundbar.
What Do We Get From A Soundbar?
A soundbar may thus be used to enhance your audio experience and give your TV audio more punch, allowing you to hear more depth in the shows and movies you like.
The best soundbars do more than just play high-quality audio; they also complete a home theatre setup, allow you to stream music, and take up less space than a full-fledged audio system by complementing the built-in speakers on your TV.
A soundbar may be an important component of a 5.1 or 7.1 system, acting as the main, center channel, so be sure the soundbar you purchase is compatible with your system.
Aside from that, several companies provide soundbars with cutting-edge capabilities like automatic room calibration, and smartphone apps to manage and expand the functionality of your system. Moreover, the most recent speaker technology fills rooms with directional cones and port facilities.
Consider Bluetooth connectivity for music streaming and the inclusion of an additional subwoofer to improve bass if you want to use your soundbar as a music-centric device.
The ability to eliminate the need for cables for surround speakers and wires around a place is a significant advantage of employing a soundbar.
When looking for the best soundbar in India, the choices are numerous, and selecting the best one might be difficult. You don't have to worry about it since we've compiled a list of the best soundbars in India based on your requirements, price, and best-in-class features.
Most reviewers usually summarise the top 10 soundbars in India. However, we have compiled a list of the top 11 soundbars available in India.
We are not endorsing any of the brands or models on this honestly compiled list. Please keep in mind that we chose these top soundbars without regard to price, and our primary goal is to choose just the highest-quality soundbars with the best features.
If you want to learn more about the selection criteria in this context, we recommend reading our soundbar buying guide.
Best Soundbar In India
Best Premium: Sony HT-G700
Best Overall: Yamaha Audio YAS-209
Editor's Choice: Sony HT-S40R
Value for Money: Sony HT-S20R
Best Popular: Zebronics Zeb Jukebar 9500 WS PRO
Bust in the Budget Range: Zebronics Zeb-JUKEBAR 9001
1.Sony HT-G700 3.1ch 4K Dolby Atmos/DTS X Soundbar 400W
This Sony soundbar may improve your cinematic experience with its 7.1.2 channel Surround Sound and rich soundscape. You may listen to music wirelessly over Bluetooth or using a USB drive.
Sony HT-G700 is the best soundbar for TV in India from Sony for individuals who cannot afford pricey versions to experience Dolby Atmos audio.
If you have a medium-sized space, it features all of the newest generation audio technology that provides immersive surround sound.
The dedicated center speaker boosts the sound quality of your movies and music greatly. With the aid of the three front speakers and the unique Sony signal processing power, this sound system creates virtual surround sound that appears to come from all across the room.
In addition, the Audio Enhancement button may transform any stereo sound to 7.1.2 channel Surround Sound. This Sony speaker system simulates a theater-like acoustic environment.
The wireless subwoofer delivers powerful sounds with deeper, richer bass. Furthermore, the speaker system of this soundbar reproduces vertical sounds that seem to be Dolby Atmos.
Its Wave-front Technology can produce three-dimensional sound fields to a broad area with a single soundbar and subwoofer.
Standard, Surround, Cinema, Auto Sound, Night mode, Music, and Voice are among the sound modes available. You may use HDMI ARC to transfer and control audio data from your TV. This is our top premium pick as the best soundbar in India.
2. Yamaha Audio YAS-209 Wireless Bluetooth Soundbar 200W
The Yamaha YAS-209 two-channel soundbar is a wonderful choice for a home sound system that will allow you to enjoy every beat of the music with faultless clarity.
This True Wireless Sound Bar is intended to provide you with continuous music throughout the day. It also uses Bluetooth to connect wirelessly to other devices.
You can improve your TV, movies, and games with built-in Alexa voice control, DTS Simulated X virtual 3D surround sound, a wireless subwoofer, and Bluetooth streaming.
The Alexa voice control feature on the YAS-209 allows you to seamlessly manage your sound bar, smart home devices, music, and more. You only need to ask Alexa for what you want.
The YAS-209's DTS Virtual X technology immerses you in spectacular 3D surround sound from a single-bar solution. A wireless subwoofer system expands on this by offering even more positional freedom.
This means you may enjoy booming bass while having the flexibility to place the subwoofer wherever you desire. You may also use your TV remote control with this soundbar if it is compatible.
Another advantage of the YAS-209 is its ease of setup; you can simply plug it in and use it with your TV without any complicated setup. Simply connect the sound bar to your TV and plug the subwoofer into a power socket.
The bass extension function amplifies high-frequency booms by adding low-frequency effects. With the Clear Voice function enabled, improved speech clarity guarantees that you never miss an important scene's audio effect.
Because Spotify and Amazon Music are integrated, you are no longer linked to your phone when streaming your favorite tracks, and playback is not interrupted by phone calls.
You may enjoy movies, music, games, sports, and TV shows with spectacular 3D surround playback or immersive surround sound.
You may browse and stream music from any connected smart device, such as a PC, laptop, NAS (Network-Attached Storage), or smartphone, once you connect your sound bar to your Wi-Fi network.
3.Sony HT-S40R 5.1Dolby Soundbar with Subwoofer 600W
The HT-S40R provides 600 W of powerful and realistic 5.1-channel surround sound, as well as cordless rear speakers, to bring any movie to reality in your living room. Undoubtedly we can say that it is the best 5.1 soundbar in India.
A soundbar, subwoofer, and wireless rear speakers provide dynamic surround sound that fills your entertainment room for an unforgettable audio experience.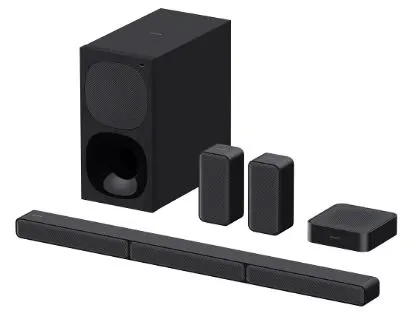 You'll experience powerful sound that puts you right in the center of the action with the 600 W output and Dolby Digital functionality. Each movie scene is brought to life by a total power output of 600 W.
A three-channel bar speaker, rear speakers, and a subwoofer work together to provide a 5.1-channel authentic surround sound.
It features distinct audio channels with Dolby Digital for dramatic, high-quality surround sound. When you utilize a wireless amplifier to power the rear speakers, there are no cords between the front and back of your room.
The subwoofer and soundbar are also powered by a single cable, allowing the system to provide movie sound with little clutter and complexity.
With a Sony BRAVIA TV that supports a TV wireless connection, you can wirelessly transfer music to your home theatre system, reducing the number of wires in your living room even more.
The HT-S40R is not just intended for movies, but also music. Bluetooth allows you to stream music from your smartphone wirelessly.
The soundbar's punched-metal grill and wall mountability make it an ideal complement to any TV. Wireless rear speakers that are tiny yet strong mix in with their surroundings and may be wall-mounted.
HDMI ARC (Audio Return Channel) connects to compatible televisions with a single cable, reducing cable clutter.
4.Sony HT-S20R 5.1Dolby Digital Soundbar 400W
You may experience 5.1 channel real surround sound with the Sony HT-S20R. With a total power output of 400 W, each sound will provide a fascinating audio impact.
Wired rear speakers, a three-channel soundbar, and a wired external subwoofer work together to provide powerful, dramatic sound, while Bluetooth and USB connections make listening to music simple.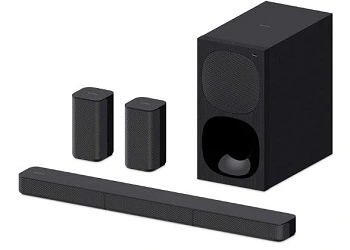 With 5.1 channels of true surround sound, you'll experience the improved effects on the soundtracks of your favorite movies.
To offer strong, immersive, and cinematic sound, rear speakers and an external subwoofer work in tandem with a three-channel soundbar.
Dolby Digital provides 5.1 distinct audio channels for dramatic, high-quality surround sound. You may not only watch movies and TV shows on it, but you can also listen to music.
Use Bluetooth connectivity to wirelessly stream music from your smartphone. It is readily connected and plays music from a memory stick via the USB port.
HDMI ARC enables you to connect to compatible televisions with a single cable, reducing cable clutter. If your TV is incompatible with HDMI ARC, you may still enjoy high-quality sound for movies and other media by utilizing optical input.
5. Zebronics Zeb-Juke BAR 9500WS PRO Dolby 5.1 soundbar 525W
The ZEB-JUKE BAR 9500WS PRO DOLBY 5.1 soundbar, with dual wireless satellites and a powerful subwoofer, brings the theatre experience into your home.
A 150-watt subwoofer, a 225-watt soundbar, and two 75-watt rear wireless satellite speakers deliver a total of 525 Watts of output power.
HDMI ARC, Optical input, AUX mode, wireless BT v5.0 (for audio streaming), and a USB pen drive connection with a maximum capacity of 32GB for MP3 music are all featured.
Smart TVs (with HDMI ARC, Optical, and AUX connections), set-top boxes (with Optical and AUX ports), laptops, tablets, and smartphones (with wireless BT v5.0 and AUX for audio streaming) are all compatible.
The ZEB-JUKE BAR 9500WS DOLBY 5.1 soundbar simplifies and enhances DOLBY AUDIO decoding. You may watch compatible OTT videos with the richness of Dolby using the HDMI ARC and Optical input modes.
The LED display simplifies use by displaying all relevant information regarding the audio mode, volume levels, and Bass / Treble levels specified in the soundbar.
You can experience clear and pleasant trebles and vocal tones, as well as notice all details, with the soundbar and twin rear wireless satellite 5.1 configurations.
A dedicated 16.5 cm subwoofer delivers strong and deep bass. The remote control may regulate the bass, treble, master volume, and other essential media features.
This also features a dedicated button for switching between input sources, making it easy to connect several input sources to the soundbar.
6. ZEBRONICS ZEB-Juke Bar 9400 Pro Dolby Bluetooth Soundbar 525 W
This Zebronics soundbar offers high-quality sound when combined with its rear speakers and subwoofer. It contains Dolby Digital Plus, so you can enjoy vibrant high-quality surround sound.
This sound system may also be linked to other devices through Bluetooth, USB, and other means. In addition, the soundbar may be wall-mounted in your room.
It comes with a strong 16.5 cm subwoofer. You may experience dramatic sounds and deep bass with its 525 W total RMS output sound.
Its versatility is also enhanced by a wide range of networking options. You may mount the soundbar on the wall and position it as needed. Furthermore, because of the multi-driver system, the music is distributed equitably around the listener.
The soundbar may be mounted on any flat surface. Your gaming experience will be more immersive if you use this sound system. Its 5.1 setup also delivers spatial precision, allowing you to completely enjoy your games.
You may use its many connectivity options to receive content from several sources. For example, if you want to stream music wirelessly, you may utilize Bluetooth.
Additional input choices include USB, AUX, HDMI (ARC), and Optical In. Despite their small size, the rear speakers provide a powerful enough sound to fill the room.
7. boAt AAVANTE Bar 3150D 5.1 Channel Bluetooth Soundbar 260W
This 5.1-channel soundbar delivers rich, dramatic sounds, increasing your movie-watching experience. Your movie sessions will be more thrilling and vibrant with the boAt Aavante Bar 3150D Bluetooth Soundbar.
This soundbar includes a variety of connectivity options, including Bluetooth v5.0, USB ports, and more, allowing it to be connected to compatible devices. This soundbar also supports Dolby Audio, allowing you to enjoy a high-quality audio experience at home.
This boAt soundbar boasts a powerful audio output of up to 260 W RMS, which will revolutionize the way you listen to music and watch movies.
This soundbar features a 60 W wired subwoofer that produces rich and thunderous sounds to keep you fascinated by the program you're watching. This soundbar's 5.1-channel surround sound helps you convert your living room into a theatre.
This soundbar can help you improve your audio experience whether you're watching movies, cartoons, sports, or game shows. This soundbar with Dolby Audio technology delivers a comprehensive movie experience in your living room.
You can effortlessly connect a compatible device to this soundbar and groove to your favorite music since it offers several connectivity options, including Bluetooth v5.0, two AUX ports, one USB port, one optical port, and one HDMI (ARC) connector.
8. Zebronics Zeb Jukebar 9200 DWS Dolby Digital Plus Soundbar 160W
The Zebronics ZEB-JUKE BAR 9200DWS PRO soundbar has a Digital Wireless Subwoofer as well as Dolby Audio. Using the connectivity choices, you may connect your TV to HDMI ARC or Optical input.
You will be able to wirelessly stream music, and it features a USB port for connecting your Pendrive. It also has an Aux input for connecting any device with a 3.5mm stereo socket.
Its maximum power output of 160 W (RMS) is enough for daily residential use. Bluetooth allows you to stream or listen to music wirelessly.
The sound bar has quad 6.9cm drivers, twin 1.9cm Tweeters, and a wireless 16.51cm Subwoofer. Its wireless subwoofer complements the environment and may be set up to 10 meters distant from the soundbar.
The Dolby Audio decoding in this soundbar system will immerse you in cinematic sound and accurate audio. The sound bar and subwoofer each have a unique audio output power of 80 Watts.
There are various connectivity options for this system, including HDMI ARC, OPTICAL input, Bluetooth v5.0, AUX, and USB input (MP3). For flexible connectivity, it is compatible with Smart TVs, TV boxes, tablets, smartphones, and other devices.
You may manage the Treble, Bass, inputs, and preset audio settings using a small and fully functional remote control unit.
9. Zebronics Zeb-JUKEBAR 9001 PRO Dolby soundbar 120W
It's a powerful and visually appealing sound bar with 120W RMS output and a deep bass subwoofer with a 16.51cm driver. It also comes with many networking options, making it more feature-rich and versatile.
The ZEB-Juke Bar 9001 Pro has a sleek and modern style that will complement any setting. Its simple and versatile style will go well with any décor.
This Zebronics soundbar's Dolby Digital Plus capability allows you to hear every detail of the audio output from music and movies.
This soundbar offers enhanced noise control, allowing it to play loud music without producing unwanted noise.
The Zebronics ZEB-Juke Bar 9001 Pro is a wall-mountable design that allows for perfect positioning and incredible performance. This soundbar may be placed on a flat surface as well.
Its multi-driver setup creates a surround-sound effect for the listener. You may connect your playback devices via Bluetooth or other means such as USB, AUX, HDMI (ARC), and optical connectors.
The multi-driver system and subwoofer in this sound bar provide simulated surround sound, allowing you to watch your favorite shows and movies with sound that flows around you to create an immersive listening experience.
The multi-driver configuration of this soundbar enables you to enjoy gaming with dimensional audio and rich surround sound enhanced by Dolby Digital Plus.
If you are looking for the best soundbar under 10,000 in India, the Zeb-JUKEBAR 9001 PRO is a good option for you.
10.boAt AAVANTE Bar 2000 160W
This boAt Bluetooth Soundbar includes many connection ports, allowing you to enjoy high-quality music, movies, and other media. Its sleek design complements the look of your home.
This allows you to enjoy both its aesthetic beauty and its audio quality. This soundbar has a wireless subwoofer connection, allowing for strong sound to reverberate throughout your room, making your parties bigger and better.
You may boost your audio experience by using Bluetooth, USB, Optic, AUX, and an HDMI (ARC) port. The multifunction button on the wireless remote control allows you to navigate between your preferred settings, radio stations, and more.
This soundbar is intended to deliver an immersive experience when watching an exciting movie at home.
Regardless of the type of entertainment, you may enjoy the superb sound. With 2.25-inch 4 premium twin drivers and 160-watt RMS sound quality, you'll experience the ultimate audio paradise.
The 80W, 6.5-inch speaker unit of the wireless subwoofer intensifies the ambiance and links you to what you need.
With integrated controls and full remote control, you can customize your settings and run the system in style. The Aavante 2000 T has AUX, USB, OPTIC, HDMI (ARC), and Bluetooth connections for every purpose.
11.boAt Aavante Bar 1500 2.1 Channel Home Theatre Soundbar 120W
You may enjoy a new level of realistic audio experience at home with the boat Aavante bar 1500 T. A sleek sound bar and adjustable 2-way subwoofer with a strong 120 W total output bring every aspect of your entertainment to life with the volume and clarity it deserves, whether it's a song, show, or movie.
A 60 W subwoofer fills in the lows, while drivers on each end of your sound bar provide a clear mid and high range. The 2.1-channel sound system creates a balanced sound with powerful bass for your movies, music, and even video games, allowing you to enjoy the dramatic surround sound.
The 60Watt Subwoofer adds a thrilling bass to the music production. 2.1 channel surround sound provides a dramatic experience and enhances your home entertainment experience.
The boAt Aavante Bar is a modern design with a great finish that will complement the décor of your house. It also supports many connection options for a more versatile design.
If you dislike large or bulky speakers, this boat soundbar is ideal for you. This 2.1-channel soundbar is sleek and lovely to look at, with several connectivity options and powerful 120-watt sound output, so you can enjoy listening to music on your devices in much greater quality and clarity.
This soundbar includes an HDMI port, an AUX input, and a USB port for connecting to a wide range of devices. This sound bar and its subwoofer are sleek and robust, and they are appealing enough to blend in with the ambiance of any room where they are put.
It boasts a powerful 120-watt sound output and delivers an amazing surround-sound experience. It is the best budget soundbar in India.
Important Factors to Consider When Selecting a High-Quality Soundbar
Soundbars have become vital audio equipment for boosting the home theater experience as technology has advanced.
However, because of the enormous number of options available, selecting the appropriate soundbar can be perplexing.
It is critical to examine numerous important factors while looking for the best soundbar for your requirements.
We'll go through the most crucial factors to consider when buying a high-quality soundbar.
1. Audio Quality 
 As we all know, the main purpose of a soundbar is to provide greater audio performance and improve your entire audio listening experience.
Consider the overall audio quality of a soundbar while shopping for one. Always search for soundbars with a broad soundstage and clean, sharp, and immersive sound.
Individual elements such as the quantity and positioning of speakers, audio formats supported such as Dolby Atmos, and built-in amplification technology can all have a substantial influence on sound quality.
Reading trustworthy product reviews and listening to demos will help you determine the audio performance of various models.
2. Connectivity Options 
Another essential factor to consider is the soundbar's connectivity choices. Ascertain that the soundbar you select has the appropriate inputs and outputs to connect to your existing devices or system and, to some extent, to be future-proof.
Most current soundbars have standard connectivity options like HDMI, optical, and Bluetooth. If your TV supports HDMI ARC, look for a soundbar that does as well.
HDMI ARC (Audio Return Channel) enables volume control and power coordination, allowing for smooth interaction with your supported TV.
 
A soundbar with Bluetooth connectivity also allows for wireless streaming from mobile devices, which is an important connectivity option these days.
Above all, always examine your unique demands and ensure that the soundbar provides the appropriate connectivity choices to ensure compatibility and simplicity.
3. Size and Design
Other important considerations are the physical size and appearance of the soundbar, especially if you have limited room or aesthetic preferences.
Determine the available area for the soundbar and make sure the soundbar size fits comfortably in that space. You must also select if you want a soundbar that can be wall-mounted or one that can be placed on a shelf or TV stand.
In addition, consider the soundbar's style to ensure that it complements your existing home design. Some soundbars are elegant and basic in style, while others are more distinctive or customized.
Choosing a soundbar that blends in with the rest of your decor can improve the overall aesthetic appeal of your entertainment room.
4. Additional Features and Functions
 Soundbars have several extra features and functionalities that might improve your audio experience.
Consider built-in virtual surround sound, dialogue enhancement, and night mode, which can improve sound output based on your tastes and circumstances.
Always bear in mind that the price of a soundbar is related to the number of extra functions it offers. So it's always a good idea to go with the features you wish to use.
Some soundbars even come with built-in smart assistants such as Amazon Alexa or Google Assistant, allowing you to operate your soundbar and other connected devices using voice commands.
 
Examine the features and functionalities that are crucial to you and choose a soundbar that has the qualities you require to enhance your entertainment setup.
5. Budget 
 Your budget, like any other purchase, is important when picking the best soundbar for your needs.
Soundbars come in a variety of pricing ranges, so it's critical to plan ahead of time. While higher-priced soundbars often provide more sophisticated capabilities and greater audio quality, there are some fantastic alternatives available at lower rates.
Investigate several models within your price range and compare their characteristics, reviews, and performance to discover the best value for your money.
 
Remember that investing in a high-quality soundbar may improve your audio experience and bring you long-term happiness.
So, before you begin your study, always establish a financial range. After you've established your budget, conduct extensive research and evaluate several models within your budget to obtain the most value for your money.
Of course, the list of the best soundbars in this post will undoubtedly aid your research and decision-making.
6. Brand and Support
When choosing a soundbar for your needs, always go with a reputable brand that offers good value for your money.
Furthermore, prominent companies such as Sony, Yamaha, Zebronics, Samsung, LG, and Boat offer excellent after-sales service.
Even if you choose a reputable brand, you must confirm with the specific company whether they provide support for your area.
We hope that our guide about the best soundbar in India has assisted you in choosing your ideal model.
If you have experience with any other soundbar models, please share your knowledge in the comments section. It will be beneficial to other readers.
Frequently Asked Questions
Which is the best soundbar in India?
If you have a significant enough budget, we propose the Sony HT-G700 or the Yamaha Audio YAS-209.
Which brand is best for a soundbar?
There are numerous reputable brands in India for the best soundbars, including Sony, Yamaha, Philips, Zebronics, JBL, and Boat.
Which is the best 5.1 Dolby Atmos soundbar?
The Sony HT-S40R 5.1 Dolby Soundbar with Subwoofer is the greatest 5.1 soundbar we've tested. It's a high-end Dolby Atmos soundbar that's ideal for viewing movies.
Is the 2.1 or 5.1 sound bar better?
A 2.1 soundbar system is the ideal option for music-only listening and a 5.1 system is good if you want a simple configuration for improving the sound on your TV without a lot of speakers. The most popular choice for obtaining a home theatre audio experience is 5.1.
Is it worth buying a soundbar?
Yes, soundbars are worthwhile investments. Soundbars are an elegant and cheap option for home entertainment systems that deliver amazing sound, are simple to use and set up, and are intuitively built to operate with all of the newest technologies.
Please share this article with your friends and relatives for their information.
Also Subscribe to our free newsletter so that you will get regular updates, informational ebooks, and the latest deals& offers directly in your Email.
You May Be Interested to Read: