Best GPS Trackers for Cars and Bikes in India 2023
GPS trackers are helpful devices for tracking your vehicle or another object. It comes in handy when you want to keep an eye on your car when it is being driven by your driver, children, or parents.
You may also make sure that your friends and family can keep an eye on you when you're climbing, trekking, or engaging in any other activity.
If you own a car, you must use a GPS tracking device to keep track of it. Some GPS trackers come with apps that let you track your speed, route, and miles in real-time.
If you want to buy a GPS tracker for yourself, we have compiled a list of the best GPS trackers for cars, motorbikes, and other vehicles that will help you buy the GPS tracker easily.
When preparing this list, we took into account each GPS tracker's characteristics, such as tracking ability, accuracy, anti-theft warning, geo-fencing, and more.
We also check to see if the device's app is compatible with Android or iOS. Before purchasing a GPS tracker, make sure that it is compatible with the phone you are using.
You should also guarantee that the tracker is accurate and that data is delivered regularly.
1. Onelap Micro
Onelap Micro is a little GPS tracking and security gadget that helps you manage and safeguard your car. Just attach the Onelap GPS gadget to your vehicle to have fast access to critical vehicle information directly from your smartphone.
An efficient GPS chip within this gadget communicates the vehicle's exact position to Onelap's cloud servers, and you can view your vehicle's live location as well as a full-day driving history on their user-friendly mobile app.
The Onelap Micro GPS tracking device is suitable with all keyed and keyless automobiles. It includes a connecting wire as well as 12 months of SIM card data.
It is a wired GPS tracker that is water resistant. This gadget does not require charging because it pulls power from both its internal battery and the vehicle's battery.
Because the gadget is so tiny, it can be placed in any position secretly in your vehicle like a bike, car, or scooter.
This device contains an anti-theft alarm that informs you if the ignition is turned or when the car is towed or pushed.
It also has geofencing and the ability to set an overspeeding restriction.
With the geofencing feature, you may designate safe zones on a map and receive notifications when a vehicle enters or departs those zones.
2.SeTrack GPS Tracker Device
SeTrack GPS Tracker Device is a simple GPS Tracking Device that you can attach to your vehicle to have fast access to useful details about your car via your smartphone.
This gadget features a specialized GPS chip that provides the exact position of the car to SeTrack's cloud servers.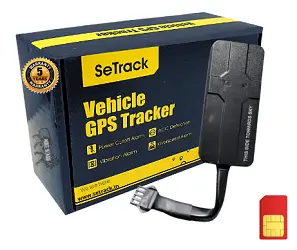 Their user-friendly Android and iOS mobile apps, as well as your PC or tablet, allow you to check your vehicle's live position and 3 months of driving history.
SeTrack is a compact GPS tracking and security gadget that aids in vehicle management and security. It's both waterproof and lightweight.
The software for this device is free for the first year, after which it will be billed. Even though this GPS tracker comes with a SIM card, you may use your SIM card if you wish. SeTrack's GPS tracker allows you to operate your vehicles from anywhere.
This GPS tracker online's remote locking and unlocking provides total transparency. SeTrack has a parking mode as well as an anti-theft option.
If someone tries to move or tow the car, an alarm and a notice will be sent to your smartphone.
It has a geo-fencing function that allows you to draw safe zones on a map and receive messages and warnings when a vehicle enters or departs certain predetermined areas.
3. Ajjas Waterproof GPS Tracker
You can always keep an eye on your automobile with the Ajjas GPS Tracker. Its integrated tamper alarm, ignition on alert, power supply off alert, and emergency battery backup features ensure your vehicle's theft prevention.
Additionally, with features such as real-time automobile speed tracking, distance traveled monitoring, trip duration data, and accident alert calls, this GPS tracker simplifies vehicle tracking and monitoring.
Furthermore, this GPS tracker is compatible with cars that have a battery to connect to it, allowing you to conveniently watch the movements of your vehicle.
This gadget does not work with electric automobiles. This GPS tracker comes with a pre-activated SIM card, a one-month free data plan, and a one-year on-site guarantee.
Another interesting feature of this GPS tracker is that when the 2-wheeler is engaged in an accident, it instantly dials three emergency numbers.
This device also features a geofencing capability that sends an alert when the car enters or exits a predefined zone. It has a mobile app for both iOS and Android smartphones.
4.J&P Technologies Prime Plus
This is another GPS tracker with distinct features. Just install the J&P Technologies GPS tracker to your vehicle to have instant access to key vehicle insights from your smartphone.
A sensitive GPS chip within the tracker transmits the vehicle's precise location to the cloud data servers, and the user-friendly smartphone app allows you to monitor your vehicle's actual location as well as full-day driving history.
This device provides real-time location and addresses updates at a refresh rate of 10 seconds, so you will never experience a delay during your tracking experience.
It also has geofencing, which allows you to select an office, home, or other location as a safe zone and receive instant push alerts whenever the car enters or exits the safe zone.
This feature, along with the timestamp, keeps you up to date on all of your entries and exits.
Things to Consider When Selecting a Good GPS Tracker
There are numerous sorts of GPS trackers available, but be sure they perform what you need them to do. The following are the important parameters to be considered while selecting a good GPS tracking device for your use:
a) Purpose of GPS Tracker
While choosing a GPS tracker, you should consider the objective for which you intend to use it. Consider what activities you'll be doing with your GPS tracker while choosing one.
Because a GPS tracker may be used for a variety of purposes, such as navigation, tracking your car, or other things, you should identify the features that your GPS tracker should have to meet your requirements.
b) Price
After deciding your particular GPS tracker requirements and desired features, you should choose the one that meets your budget.
The models you choose will be determined by the amount of money you have in your pocket. Think about the subscription plan you're going to buy as well.
When you buy a GPS tracker, it does may not come with a data subscription service.
The price of a GPS tracker has nothing to do with its accuracy in most circumstances. A more expensive GPS tracker isn't always more powerful than a cheaper device.
c) Size of the GPS Device
GPS trackers, such as Onelap Go, may be taken to many locations because they are small enough to fit in nearly any bag, such as your toddler's knapsack, with you on a hike, on your pet's collar, or in your teen's pocket, allowing you to track their activities.
Some professionals (such as private investigators) analyze the size of the GPS tracker when selecting GPS trackers for secret surveillance.
d) SOS Button Availability
The SOS button on a GPS tracker is a critical feature to look for when purchasing it since it has the potential to save lives.
In an emergency, the user can press this button to alert authorities or other people of the device's current location, including directions. This skill has come in handy in emergencies.
e) Mobile Application Support
If the firm from which you purchased the GPS tracker does not have its app, you will be losing out on some important features.
You are unable to create or see geofences, modify your account settings, or check other vitals such as battery life.
Once a tracking app is installed, alerts can be shown on a smartphone in real-time. When it comes to customizing location data, good trackers should provide you with more options.
f) Water Resistance
Water-resistant trackers may withstand mild water sprays without causing damage to the internal wiring or chip.
This feature is critical when choosing GPS trackers for pets, children, drones, cars, trucks, boats, and other applications.
Outdoor GPS trackers must be durable enough to last for the price you paid.
g) Alerts
The basic function of a GPS tracker is to locate the exact location of a person or item.
When your monitoring goals include safety, efficiency, security, and proper management, you'll quickly realize that knowing whether or not limits have been crossed is crucial when using GPS trackers.
To get the most out of tracking, choose a device that will send you immediate warnings if the device leaves a safe zone, deviates from its schedule, changes position, or violates speed limits.
h) Coverage
The tracker's data is sent to a server through a mobile data connection, from where smartphones and PCs may collect it. While looking for GPS trackers, you must first decide which cellular network the device will utilize.
Select a mobile network that offers a consistent and dependable data connection in a significant portion of the service region where you want to use the device.
i) Battery Life
When it comes to GPS trackers, battery life determines how the tracking device reports its data, so be sure the device has enough power backup for your needs.
Portable, battery-powered GPS trackers with built-in motion sensors that consume extremely little power while not in use are available. There are also power banks, which may provide you with longer battery life and charge.
The battery power of a GPS gadget varies according to model and usage. Although most high-quality GPS monitoring devices can run for at least a week without being recharged,
If you are familiar with other good GPS tracking devices for your car or bike, please share the information in the comments area.
We hope you have interested in our articles and consider following our Facebook, Instagram, and Twitter pages for regular updates.
Subscribe to our free newsletter to get similar articles and regular updates directly in your Email Inbox.
Also, share this article with your friends and relatives. Bookmark this page for future reference.
Disclosure: We will get an affiliate commission on some, but not all, of the products or services we recommend if you follow our links to a retailer's website and make a purchase. This does not affect your pricing.
You May Be Interested to Read: