Best Wall Fans in India 2023 | How to Select a Good Wall Fan?
We understand that you are looking for a wall-mounted fan and are overwhelmed by the variety available. Don't be puzzled, and we will assist you in choosing the best wall fan for your needs.
Based on performance, pricing, aftersales support, and warranty, we have selected some of the best wall-mounted fans in India. Our list is solely based on our actual use of these items over three months.
We have no affiliation with these items and have purchased them for evaluation and testing purposes only. We researched and graded 9 of the best-rated wall mount fans based on their feature sets and overall performance to help you choose the best one.
Each fan was rated based on three critical criteria: power, installation simplicity, and user-friendliness. We also looked into features like oscillation and remote controls, as well as durability and other valuable aspects.
You may now instantly select the best option from our list of best wall fans.
1. Atomberg Renesa 400mm Wall-Mounted Fan
The first revolutionary product in this list is Atomberg's Renesa 400mm Wall-Mounted Fan. It features a 400-mm sweep and a maximum speed of 1500 at 76 CMM of air supply.
It's a wall-mounted fan with a remote control. It is an exceptionally energy-efficient BLDC wall fan, utilizing a maximum of 35 W at full speed.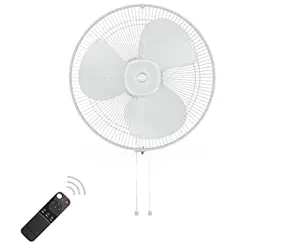 This Atomberg wall fan operates at a broad range of voltages and keeps the same speed over a 165-285 V-AC voltage range.
A separate oscillation motor and a double ball-bearing motor ensure that the device runs smoothly and without jerks.
This fan features three blades for optimal air distribution and is the ideal combination of aesthetics and performance. It's also one of the quiet wall-mounted fans.
The use of a 100% copper-wound motor increases power efficiency and ensures long motor life. This fan is backed by a 2-year manufacturer's warranty.
2.Atomberg Efficio+ Energy Efficient 400 mm Wall Fan
Atomberg's BLDC wall-mounted fan is an innovative product. It has a 400mm sweep and a maximum speed of 1350 at an Air Delivery of 71 CMM. It is a wall-mount fan with a remote control feature.
Because it is a BLDC wall fan, it is extremely energy-efficient, consuming a maximum of 32 W at full speed. This Atomberg wall fan runs at a wide variety of voltages and maintains the same speed throughout a 90-245 V-AC voltage range.
A separate oscillation motor and a double ball bearing motor assure smooth and jerk-free operation. A fully functional remote is an added feature of this fan. Also, it is one of the silent wall-mounted fans.
The adoption of a 100% copper wound motor improves power efficiency even further and assures long motor life.
It is simple to use, has a good wall fan design, an intelligent remote with a boost mode, oscillation control, and timed mode.
3.V-Guard Esfera PLUS RW 16 Wall Fan
This is a modern-looking product from the well-known firm V-Guard. It comes in three different colours: blue-black, orange-black, and yellow-black. It is also the best wall fan in India with a remote control.
The remote control can regulate all functions and display specialized LED indicators.
Aerodynamically engineered blades provide improved air thrust. It has a maximum speed of 1300 RPM with a 65 CMM air supply. It's a fan with a 400 mm sweep.
You may pick the required speed from three preset speed selections. This modern wall fan also has a timer that can last 7.5 hours.
A synchronous motor-driven oscillation mechanism ensures smooth and jerk-free oscillation. Because its motor is copper wound, it consumes less energy and works more smoothly.
On the protective side, the motor of this fan is secured against overload and overheating.
4. Orient Electric Wall-49 400mm Wall Fan
It is one of Orient Electric's best wall-mount fans. It has a high air speed due to its aerodynamically designed resin blades. This creates a 90-degree oscillation that distributes air evenly around the space.
At maximum rated voltage, it spins at 1330 RPM. You may experience unparalleled breeze control via remote or manual operation, allowing the fan to cycle between high, medium, and low speeds.
This is again a wall fan with a remote control.
The option to utilize a remote control to change the timer, speed, oscillation, breeze, and On/Off makes it comfortable to use. Smooth touch controls for manual operation are located on the fan base also.
Adjustable upward and downward tilt mechanisms ensure error-free operation. A powder-coated shield with a polymer ring adds further defence against spinning blades.
The fan motor is protected from overheating by a thermal overload protection system. Each of the On/Off, speed, timer, and breeze actions has its LED indicator. It revolves at 1300 RPM at its rated maximum voltage.
5.Havells Platina 400mm Wall Fan
Havells' Platina wall fan is another fast-moving wall fan type. The traditional three-blade design of this fan provides efficient air circulation throughout the whole length of the room.
The blades are aerodynamically designed to maximize circulation efficiency. The powerful motor in this fan provides great performance even at low voltages, resulting in excellent air delivery.
The pivot structure of this fan allows for simple tilting and oscillation. The pivoting mechanism makes it easier to modify the setting.
The fan's three-speed regulator lets you select between low, medium, and high speeds. The regulator allows you to change the fan speed based on the season.
For increased convenience, this fan includes two pull cords. You may now modify the settings and movements with a simple pull.
It has a maximum RPM of 1350 and a CMM of 72 at a rated voltage of 230 V. It's a 50W wall fan with a two-year manufacturing warranty from the date of purchase against any manufacturing defects.
6. Havells Swing 300mm Wall Fan
If you need a wall fan for a small room, this is the finest option. It is a 300mm sweep variant of the Havells 400mm wall fan that is listed below. We think that this model is a good option as a Kitchen wall fan.
It takes 45 watts of input power and has a maximum air supply of 45 CMM. Its maximum possible speed is 1360 RPM. We can say that it is one of the best high-speed wall fans.
The Havells Swing 300mm wall fan has the same specs as the Swing 400mm fan. This is a personal fan with high speed.
The fan's blades revolve at 1360 RPM, making it extremely effective in delivering a consistent flow of air in a room. The fan's strong motor allows it to run at high speed for hours at a time.
7.AmazonBasics High-Speed Wall Fan
This wall fan, like other AmazonBasics products, is reasonably priced. It is made up of aerodynamically constructed 400mm Sweep blades that deliver 65-75 CMM of air.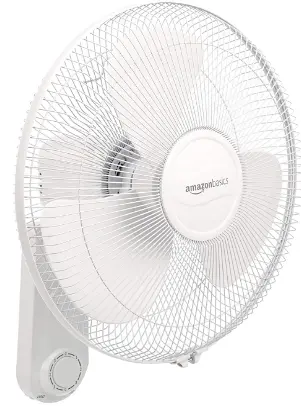 The wall fan is simple to assemble, operate, and use since the fan blades are fully applied by the ergonomic design.
According to the company, this wall fan has been lab-tested to ensure safety against electric shock, fire dangers, and stability.
It delivers good cooling with a maximum speed of 1350 RPM. It can cover and cool a greater area more smoothly with an automatic oscillation of 65 degrees. You have the option of running the wall fan with or without oscillation.
Three vertical tilting angles enable you to individually set the fan to your needs. It contains a 100% copper wound motor, making it more efficient and long-lasting. You will also benefit from a smooth airflow mechanism as a result of this.
8. Havells Sameera 400mm Wall Fan
Havells' Sameera series wall fan is a new wall fan model. You may be certain of receiving great air delivery. Its aerodynamically designed blades and heavy-duty motor ensure that good air circulation is never an issue.
You may add a touch of elegance and refinement to your décor with this lovely fan. Its delicate design, completed with a gorgeous finish, was purposefully made to complement your elegantly furnished home.
This gorgeous beauty is available in some colour combinations. So there's no need to limit yourself to white, brown, and other neutral colours. You can select one that complements your entire concept and design.
9. Havells Swing 400mm Wall Fan
One of the most popular wall-mounted fans in India is the Havells Swing series. It has aerodynamically built blades and is balanced to minimize excessive vibration.
The blades are aerodynamically designed to maximize airflow efficiency. Thermal overload prevention protects the motor from overheating.
It is a 50W wall fan with a two-year manufacturing warranty from the date of purchase for any manufacturing defects.
Its frame is attractively constructed to provide an aesthetic interest to your home. The Havells Swing fan has 60 degrees of oscillation, which is adequate for a small space and we found that the best small wall fan.
The classic three-blade design of this fan ensures even air circulation across the room. At a rated voltage of 230 V, this fan has a maximum RPM of 1350 and a CMM of 72.
It comes with two pull cords for increased convenience. You may now alter the fan's settings and motions with a simple pull.
10. Crompton HighFlo Wave Plus 400mm Wall Fan 
Crompton's wall fan is in high demand. It has a high speed of 1350 RPM and an air supply of 85 CMM at a rated voltage with a maximum power input of 50W.
Even when operating at high speeds or oscillating, this fan's positioning is sturdy and constructed to hold the weight.
The body is not only gorgeous but also strong. Using the easy-push buttons on the base panel, choose the most comfortable of the three-speed levels.
Pull the pull cord down to control the fan's oscillation. For maximum comfort, this wall-hanging fan provides a wide range of oscillations.
Thermal Overload Protection prevents the fan from overheating and the motor from voltage fluctuations. If there is an overload, the circuit will be momentarily disconnected to safeguard the fan.
Related: Best Ceiling Fans Under 1500 In India
How To Choose The Best Wall Fan?
When picking a decent wall fan for your needs, there are certain basic parameters to consider. Let us go through the factors to consider while selecting a wall fan.
The features listed below are essential for any efficient wall-mounted fan. You won't be able to select the right fan until you grasp these criteria.
1. Size
The most important consideration when selecting a wall fan is its size. It's critical to consider airflow when selecting a wall-mounted fan, so get the correct size.
Like ceiling fans, wall-mounted fans come in many sizes. Based on the size of the area, you may choose the appropriate size of fans or the number of fans to install.
A 400 mm sweep fan would be perfect for a regular room. The wall-mounted fan must be of sufficient size to offer adequate efficiency and airflow.
Determine the size of the area to be covered and the location of the fan. To get the most out of your fan, make sure the size you purchase is appropriate for the location where it will provide adequate airflow.
2. Speed
Another important factor to consider when selecting a wall-mounted fan is speed. A fan with many changeable speeds is always useful. Because different people like different fan speeds.
Some individuals like to run the fan at maximum speed, while others prefer to run it at a slower pace.
Purchasing wall-mounted fans with changeable speeds is essential since it personalizes and enhances the experience.
The best advice we can provide is to buy a fan that can circulate air around the area at a low to medium speed while making no noise.
3. Build Quality
Lightweight fans are suitable for home usage as long as the material is not too fragile. Such fans are generally made of plastic.
However, be certain that the fan you select is made of high-quality materials.
4. Durability
Have you ever analyzed the importance of fan life expectancy?
The fans you require for your workplaces or households are those that are designed to endure a long period. Wall-mounted fans that are more robust, lightweight, and attractive improve room aesthetics.
Wall fans should be strong enough to be placed and then forgotten about. You'll be turning them on and off, but they may need to be left on for several hours. As a result, it's vital to consider the longevity and quality of the fan's motor.
You don't want to invest in a wall fan just to have it fail after a few months. If you're going to put your fan in a high-traffic area, look for sturdy fan grills and housing.
5. Performance/Power
The purpose of wall-mount fans is to increase air circulation in your space, allowing warm air to be removed and replaced by cool air.
They can also help with the dispersion of heavy cooking scents. As a result, selecting a fan with suitable power and performance for your specific location is crucial.
To determine how much power you'll need, look at the entire square footage of the space where you'll be installing your fan.
In general, a fan with a minimum of 40 CMM of air-blowing power is suggested for your space.
6. Oscillation Feature
Although this is not a critical feature if you want to install the fan in a certain location, oscillation capability is a nice alternative.
If you sit in a fixed location in your room yet the fan oscillates across it, the dispersion of air over the entire room will not make you feel better.
So it is recommended to choose a fan with oscillation capabilities, which you may turn off when not needed. This function is found on the majority of wall fans on the market.
7. Usage Location
A wall-mounted fan may be a better option than a ceiling fan in various contexts, including restaurants, kitchens, garages, and outdoor patios.
Remember that each of the aforementioned outside settings is distinct. Size, available space, speed, oscillation, adjustable angles, and other factors should all be considered when choosing a fan.
Consult a specialist for help in finding your perfect match. When buying a wall fan for your workplace or home, consider where you want to install it so that air can move easily around the room and gallery.
8. Noise Level
You'll most likely put your wall-mount fan somewhere where you and others will gather. This is when the level of noise gets significant.
While you shouldn't expect to find entirely silent wall-mounted fans, especially when utilizing the highest speed setting, you may locate nearly silent fans.
If you're most concerned about noise, go for a fan with variable speed options that are quietest at lower speeds.
9. Remote Control
If you don't want to continue turning on the wall-mounted fan from its base panel board, go for one that has a remote control, which makes it much easier to operate and regulate.
10. Additional Features
Though you would not expect much from a wall-mounted fan, some high-tech fans on the market will surprise you.
The new Atomberg wall-mounted fans in India, for example, include a tiny and powerful BLDC motor, 2X inverter run-time, and specially designed aerodynamic blades for noise reduction, among other benefits.
They are also the most energy-efficient fans in India, saving up to 50% on power! So, before you go out and buy a standard fan, check to see whether you can obtain features like these.
Advantages of a Wall Fan
We all know that ceiling fans are the most popular choice for cooling. However, in some circumstances, a wall-mounted fan may be an excellent choice.
Examples include high-ceiling rooms, kitchens, public locations such as restaurants, enhanced ventilation, and so on. Wall-mounted fans are ones that simply hang on the wall and may rotate or be placed in a specific spot.
During the hot summer months, wall-mounted fans circulate air from a greater height in all directions, making the space more pleasant.
They assist in pushing air away, allowing it to disperse throughout the room.
Furthermore, wall fans have the benefit of taking up less space. They are an excellent option for conserving a lot of room at home and are thus ideal for homes with limited floor space.
Frequently Asked Questions
Which brand of wall fan is best?
Atomberg is the best BLDC wall fan on the market. If you need a standard wall-mounted fan, there are several brands to choose from, including V-Guard, Orient, Havells, Crompton, and AmazonBasics. However, try to choose from the models listed in this article.
Which is the best wall fan with a remote?
The Atomberg Efficio+ Energy Efficient 400 mm Wall Fan is the finest fan with a remote control.
We hope you found this buying guide helpful and please consider following our Facebook and Twitter pages.
Subscribe to our free newsletter so that you will get similar articles and regular updates directly in your Email.
You May Be Interested to Read: