12 Best Rechargeable Emergency Lights for Homes in India
Keep a rechargeable emergency light for home, workplace, travel bag, and car.is a good practice. Moreover, emergency lights are an excellent backup option for areas that have regular power outages, as well as for usage outdoors.
Having an emergency lamp on hand may save you a lot of trouble during unexpected or long-term power outages. This is a must-have gadget, especially if your inverter battery fails immediately or you're in the middle of an emergency during power failure time.
This home emergency light includes a rechargeable battery, which allows them to be used for extended periods. Most of the newest model rechargeable emergency lights have efficient designs that make them portable.
Emergency lights are the greatest option for removing darkness from poorly lit regions. We've put together a list of some of the best rechargeable emergency lights (emergency lights with battery backup) to help you choose easily.
We are not affiliated with any of the brands mentioned in this buying guide, and all of these rechargeable LED lights for a home have been hand-picked by our review team. We've been using each of these items for at least three months.
1. Wipro Coral Rechargeable Emergency Light
This is one of Wipro's greatest emergency lights for the home. It comes with a high-quality lightweight lithium battery that is readily changed and provides a longer backup time.
Because of its compact size and portability, we believe this is the best rechargeable emergency light.
This light is made up of 84 individual LEDs and glows in a 360-degree circle. The brightness of these LEDs may be adjusted by using a small knob. The brightness adjustment feature provides the exact amount of light you require.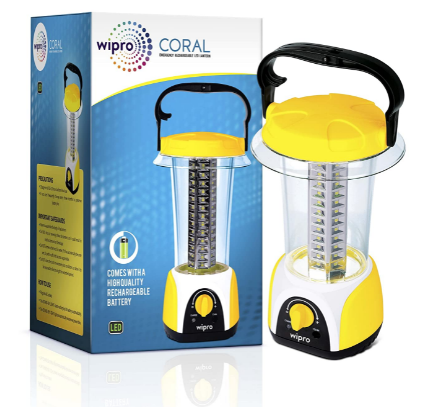 Its power usage is around 2W. It has a folding hook that allows us to hang it wherever we want, especially when used outside.
This lamp's LEDs have a lifespan of 50000 hours and an output power of 8.4W. It will take 8-10 hours to fully charge the battery in an exhausted state.
This product is covered by a 6-month manufacturer's warranty. When fully charged, this lamp has an operational time of 15 and 20 hours in the Strong and Dim light settings, respectively.
Because it automatically turns on in the case of a power loss, its standby light is handy for signaling a power outage and is a recommended rechargeable light for the home.
2. Syska Tuo Portable Rechargeable LED Lamp Cum Torch
The Syska Tuo rechargeable LED lamp is a travel-friendly (pocket-sized) lamp with a torch. It has a working time of 3 hours with the light and 4 hours with the torch.
However, in practice, we only got a maximum of 2 hours out of the light. The battery takes 10-12 hours to completely charge.
One of the useful and distinctive characteristics of this light is the charge level indication. Another appealing aspect is that this low-cost equipment comes with a one-year warranty.
3. Wipro Azure LED Rechargeable Lantern
Wipro has released another rechargeable LED emergency lamp. The build quality of this product is excellent, as is typical of other major Wipro products.
It is a 360-degree light distribution lamp with the ability to modify the light color from cool white to warm white.
The company says that it contains a rechargeable lithium battery and that it comes with a 6-month guarantee.
It includes a flexible handle that makes it easy to carry. It has overcharge and deep discharge protection. Its 1800 mAh battery has an average charge duration of 4 hours.
4. Philips Ujjwal Plus Rechargeable LED Lantern
The Philips Ujjwal Plus is another best emergency lights in India with a 360-degree illuminating capability. It is equipped with 32 high-quality LEDs and has a luminous intensity of 250 Lm.
Its silver-plated reflector provides a uniform and wide illuminating area. This lamp's tiny form and convenient size make it more portable.
It has a 2200mAh battery with a charge time of 9 hours. Its power usage when charging is minimal about 2.5W. This item comes with a holder that holds the lamp from the top, providing greater light and visibility.
The LED light has an on/off push button switch. It allows you to switch the on and off the light as desired. In a completely charged state, the battery backup time of this light is around 4 hours.
5. PHILIPS Helio Rechargeable LED Emergency Light/Lantern
The Philips Helio Rechargeable LED bulb is a high-quality emergency lamp with a contemporary style. Same as in some other models on our list, it incorporates a headlight as an added benefit.
When used independently, this lamp offers an 8-hour backup time each with the headlamp and front light in dim mode. However, if you use the front light in a powerful setting, it provides 2.5 hours of backup time.
It has a superior build quality and a hand-held portable design. This lamp includes an overload protection mechanism.
This Philips rechargeable emergency light has a top-notch build quality as well, making it a wonderful addition to your home or office. It is suitable for use in any location and blends in with the surroundings.
It contains a 2200 mAh battery that takes 8 hours to charge completely after being drained. Its LED power output is 5W, as stated in the title.
6. AmazonBasics Glow 180-degree Rechargeable LED Light
Amazon Basics offer this high-quality emergency light at a reasonable price. This may be used as a wall-mounted or tabletop emergency light, and it can be used both indoors and outdoors.
It has built-in protection against overcharging and deep discharge. Depending on whether you choose the Weak or Strong modes of operation, you may expect up to 15 hours of battery backup.
It takes 8–10 hours to fully charge a drained battery. A USB cord is included with the lamp to charge the battery.
You may adjust the brightness of the LEDs to fit your illumination requirements. It is composed of 66 high-quality LEDs.
This Amazon Basic Rechargeable LED Lantern is built of tough polycarbonate, which ensures long-term endurance in a variety of operating environments.
It also contains a charge indicator to help you minimize power use and a 3000 mAh built-in battery to extend backup time.
The LED light has a handle that allows it to be easily held, carried about, or hung on the wall. However, nothing regarding the warranty is mentioned on the website.
7. Pigeon Capella LED Rechargeable Emergency Lamp
Pigeon is a reputable company in the kitchen appliance industry. The Pigeon Capella LED Rechargeable Emergency Lamp features a compact tower design with 42 high-efficiency LEDs.
It boasts a sleeker shape and a better appearance, as well as high build quality. It features two 1600mAh batteries (for a total of 3200mAh) and can provide up to 8 hours of backup time in low power mode.
However, in low power mode, we only got around 5-6 hours.
These lights, like some other models, include a function that allows you to adjust the LED brightness based on your needs, allowing us to preserve battery charge.
To prevent overcharging, when the battery is fully charged, the power supply is switched off automatically.
When the battery is low, it may take 10 to 14 hours to fully recharge. It also includes the standard capability of automatically turning on the LED lamp when there is a power outage.
On manufacturing flaws, the company provides a 6-month warranty.
8. Philips Tesni Rechargeable Emergency Light
Philips states that the LED technology built into this Philips Tesni Rechargeable emergency light is a proprietary solution created by them.
When turned on instantly, it provides excellent light output and gives out vibrant colors in your house. Tesni is a super-bright 5W LED emergency lantern with a unique parabolic shape that illuminates every part of your home from every angle.
Its brightness may be modified by turning its regulator switch, which simply adjusts the intensity of the light.
This one-of-a-kind emergency light has a high-quality rechargeable 3.7V, 2200 mAH Lithium-Ion battery. This light also has overcharge and deep discharge protection.
The emergency lantern can be fully charged in up to 8 hours and provides up to 15 hours of backup in dim light mode and 2.5 hours in strong light mode.
The lantern is portable, lightweight, and long-lasting, making it an excellent addition to your home or office. It is suitable for use in all environments and blends seamlessly.
Furthermore, this emergency light comes with a one-year warranty from the date of purchase for any manufacturing flaws.
9. Wipro Safari Emergency Rechargeable LED Lantern
Wipro Safari Emergency Rechargeable LED Lantern offers a 15 W light output with 122 unique, brilliant LEDs.
It comes with a 7200 mAh high-quality, high-capacity rechargeable battery that can run for 10 hours in low-light mode on a full charge.
With intense light, though, you will get roughly 2.5 hours on average. Surprisingly, this emergency light includes an in-built mobile charging port for charging phones in an emergency.
It is a lightweight emergency light with a top-hanging handle for convenient handling and carrying.
A switch allows you to regulate the brightness of the light from strong to dim, depending on your needs. This Wipro Safari emergency light's milky white diffuser emits a gentle, glare-free light.
Wipro provides a 6-month warranty on this device from the date of purchase for any manufacturing faults.
10. Eveready HL-52 Portable Rechargeable Lantern
It is a high-quality rechargeable emergency light from the well-known Eveready brand. We feel that it is an excellent, durable emergency light that may be used in your house or office.
It includes a 360-degree adjustable head that allows light to shine in any direction.
It comes with a lithium-ion battery with a reasonably large capacity that gives 15 hours of continuous light when completely charged.
On the rear, there is a flashlight unit with nine brilliant LEDs. The primary light is made up of 30 high-quality LEDs.
This Eveready emergency lantern has a deep discharge and overcharge protection to extend the battery's life.
Eveready HL-52 comes with a 6-month warranty against manufacturing defects from the date of purchase.
11. Everest180-degree LED Emergency Light
We discovered that it is a very compact light that is ideal for studying and cooking areas  This Everest lamp, like other emergency lights, has a recharge duration of 8-10 hours under ideal conditions.
This LED product includes a small light that acts as a charger indicator, indicating whether the product is being charged or if it is low and needs to be charged.
Also, there is an LED brightness adjustment knob in it, which comes in handy when you require accurate lighting in particular situations.
Because, as previously said, this is a tiny lamp and has only 24 LEDs. Silver metal plates inserted between the LED light spacing enhance the lamp's brightness and brilliance.
This improves illumination by reflecting light from the LEDs outward. This lamp has overcharge and deep discharge protection, which keeps the battery from being overcharged and deeply exhausted, so increasing its life.
It also protects against battery failure. It also features a built-in LED torch as a bonus. We think that this emergency light is powered by a lead-acid battery. It has a 6.5 W LED output.
12. Pigeon by Stovekraft Gleam LED Rechargeable Emergency Lamp
Pigeon has come up with yet another classic-style rechargeable emergency lamp. It is powered by a 1600 mAH maintenance-free lead-acid battery.
The company promises that it can provide 50 hours of light output when completely charged; however, we barely get maximum brightness for 4-5 hours.
This emergency lamp has overcharge prevention, which helps extend battery life.
From the date of purchase, the Pigeon Gleam LED lamp is covered by a 6-month warranty against manufacturing defects.
If you want a simple emergency light with a long backup time, this is a decent option.
Related: How to Select the Right Inverter and Battery for Home in India?
Things to Consider When Selecting a Best Rechargeable Emergency Light
While preparing the list of the best rechargeable emergency light product line, we developed a purchasing guideline for emergency lights.
We're sharing the checklist with you so you can make the best decision while buying emergency lights in your next purchase.
1. Build Quality
It is vital to check whether the emergency light is long-lasting and what material it is made of. Any low-quality plastic will most likely fracture quickly and will be unable to survive extreme conditions, especially when used in outdoor areas.
Materials like synthetic and polycarbonate are incredibly robust and contribute minimal weight to the lamp. Because we all know that physical damage is not covered by the warranty, we must double-check build quality before taking a decision.
2. Charging Option
Check to discover what charging options are available for the emergency light. Most rechargeable emergency lights are either grid-charged or solar-charged.
Not to mention that some models feature both of these charging choices. Select based on your requirements.
If you want to use it in a location where there is an extended power outage, we recommend choosing one that allows both solar and grid charging and comes with a solar panel.
However, for a typical residence with an adequate utility power supply, an emergency light with conventional grid charge capability is enough.
3. Choose an LED Lamp
LED lights are becoming increasingly popular for a variety of reasons, including improved light intensity, lower power usage, and longer life.
Choose LED rechargeable light when making a purchase. There are also emergency lamps with fluorescent tubes on the market. However, for better light and life, always choose an LED emergency lamp.
4. Battery Back-Up Time
The battery backup time decides how long your lamp will serve you with full brightness and no changes in brightness after it has been fully charged.
On the market, the average backup time is four to eight hours. Give a bonus point to a light or lamp that has a battery backup of at least 5 hours when making your buying decision.
5. Light Intensity
Do not consider the number of LEDs in a lamp to be a direct indicator of its intensity or brightness. LEDs of varying brightness are widely available on the market.
As a result, two lights with the same number of LEDs may emit light with varying intensities. Inquire about the lamp's light intensity at all times.
Here are some numbers to think about before making a purchase decision. 450 lumens are necessary for usage as a study lamp, whereas 1700 lumens are required for an average-sized room.
So, make an intelligent choice for your best rechargeable light.
6. Battery Charging Time
Charging time is the amount of time it takes to charge an emergency light battery from a low charge to a full charge.
The usual charging time for a lamp with a battery backup of 4 to 5 hours should not be more than 10 to 14 hours.
7. Usage Easiness
Another feature to look for in the best emergency light is the easiness of operation and that the user can turn them on quickly.
The light from the lamp should be mild on the eyes while producing a gentle glow.
8. Standby Feature
One of the most significant characteristics is that if the lamp is connected to a power source and the power goes out, the lamp should turn on immediately.
This feature avoids the need to mess around in the darkness and allows you to find the light as soon as the power is turned off.
9. Warranty
Finally, discover whether or not the device is protected by a manufacturer's warranty. Confirm whether or not your location is serviceable by the firm.
Moreover, verify the possibilities that if you want to get a new battery when your existing one dies, can you order one from the dealer, or do you have to obtain a replacement from the local market?
We strongly advise you to choose the best charging light for your home that is covered by a warranty of at least 6 months.
We hope you found this article helpful and please consider following our Facebook and Twitter pages.
Subscribe to our free newsletter so that you will get similar articles and regular updates directly in your Email.
Disclosure: If you follow any of our links to a retailer's website and make a purchase, we will get an affiliate commission on some, but not all, of the things or services we present at no extra cost to you.
You May Be Interested to Read: